Cottonwood Mansion Preservation Foundation seeks roofing contractor.
Read more here.
Welcome to Cottonwood Mansion
Cottonwood is an Italianate-style red brick mansion built c. 1865-70 by William Holmes Jr., as a private residence. Descendants of the family say the name came from the cottonwood trees that originally surrounded the home on its 200 acre site. It was lived in until 1911 and then was derelict for almost eighty years until its restoration was undertaken by the late Larry Hamilton beginning in 1988.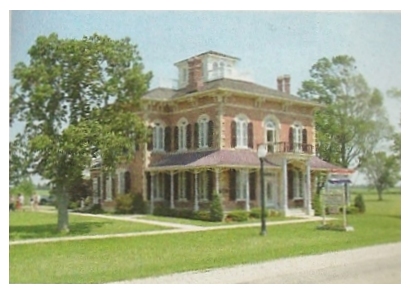 Cottonwood is a 6,000 square foot mansion with fifteen rooms, some of which have the original furniture donated by Holmes' family members. Now a living museum, the mansion is open for tours, and available for rentals for a variety of events. A number of scheduled events take place annually, most with a Victorian flavour in keeping with the mission statement of the Cottonwood Mansion Preservation Foundation to sustain and maintain the Mansion and provide experiences of the Victorian Era.
Cottonwood's extensive genealogy research centre is now administered by the curator at Haldimand County Museum and Archives. It concentrates on the pioneer families of the Haldimand and Niagara areas.
Latest News
July 25, 2015
Roofing Contractor Sought
The Cottonwood Mansion Preservation Foundation is seeking estimates on repairing the flashing and replacing the roof on the Mansion part of Cottonwood. To make an appointment to provide an estimate please call Cindy Stewart-Held at 905-776-2538 or email cottonwoodmansion@gmail.com. Estimates are needed by August 15th at the latest.
---
June 26, 2015
New Administrative Assistant at Cottonwood Mansion Museum
The trustees of the Cottonwood Mansion Preservation Foundation are pleased to announce the appointment of Cindy Stewart-Held to the position of Administrative Assistant at Cottonwood Mansion Museum, beginning July 1, 2015. Cindy lives in Fisherville and knows the operation of the Mansion very well from volunteering at it and attending many special events over the years with her husband, Mike Held. Mike's family have been major supporters of the Mansion since shortly after the restoration of it began some twenty-five years ago.

Cindy brings a background in management and sales to the work along with computer and graphics expertise. She will be at Cottonwood Mansion Museum from 1-3 p.m. on Canada Day to welcome visitors. She will be the hostess when the Mansion is open to the public and is available for rental, touring and other information at 905-776-2538 or at cottonwoodmansion@gmail.com.

Cindy Stewart-Held

Click to enlarge.
---
June 10, 2015
Selkirk Bakery Display
A display of artifacts from the Selkirk Bakery which was opened in the mid 1800s, opened at Cottonwood Mansion Museum on Wednesday, June 10th, courtesy of area resident William H. Lindsay. The exhibit is on display until Friday, September 18th, and will be followed by materials connected to croquet and other sports in the Victorian Era. See our events for more details.