Welcome to Cottonwood Mansion
Cottonwood is an Italianate-style red brick mansion built c. 1865-70 by William Holmes Jr., as a private residence. Descendants of the family say the name came from the cottonwood trees that originally surrounded the home on its 200 acre site. It was lived in until 1911 and then was derelict for almost eighty years until its restoration was undertaken by the late Larry Hamilton beginning in 1988.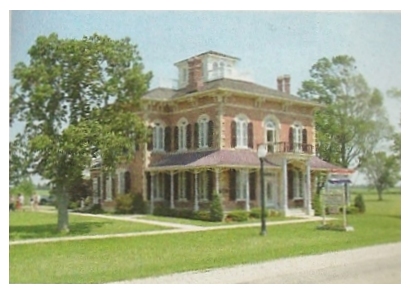 Cottonwood is a 6,000 square foot mansion with fifteen rooms, some of which have the original furniture donated by Holmes' family members. Now a living museum, the mansion is open for tours, and available for rentals for a variety of events. A number of scheduled events take place annually, most with a Victorian flavour in keeping with the mission statement of the Cottonwood Mansion Preservation Foundation to sustain and maintain the Mansion and provide experiences of the Victorian Era.
Cottonwood's extensive genealogy research centre is now administered by the curator at Haldimand County Museum and Archives. It concentrates on the pioneer families of the Haldimand and Niagara areas.
---
Latest News
September 9, 2015
Grimsby Historical Society Article on Cottonwood Mansion
The Grimsby Historical Society recently provided an article about Cottonwood Mansion. Click on the image to the right to read the article.
---
August 20, 2015
Ontario Farmer Interview



If you subscribe to or have access to "Ontario Farmer", don't miss the article on Cottonwood Mansion Museum by June Payne Flath. She was at the Mansion and interviewed Cindy Stewart-Held, Clayton Spears, and Catherine Stidsen to help with the article. We are grateful to her and her publisher for having made this possible.

Barbara Held


---
August 18, 2015
Volunteers needed for Doors Open Haldimand County
Volunteers needed for Doors Open Haldimand County at Cottonwood on September 19th. Please call 905 776 2538 or email cottonwoodmansion@gmail.com on or before September 12th if you are able to help in any way.
Thank you for the strong turn out of volunteers. We have enough now.
---
August 7, 2015
Gas Fest



On Saturday, August 8th, Cottonwood Mansion Museum will be open to the public from 2 pm to 4 pm only. Prior to that we will be participating in the Gas Fest Parade in Selkirk. Come join us for our very popular Victorian Band Concert and Peach Social beginning at 2 pm on Sunday, August 9th.

On Saturday don't miss... Sadee Kelly will have a Lemonade Stand set up on the lawn of Cottonwood Mansion , following the Gas Fest Parade and festivities in Selkirk, on August 8, 2015 from 2 - 4 pm, during open hours. $2.00 per cup, all proceeds go directly to benefit Cottonwood Mansion Museum. See you there!

Click to enlarge.
---
June 10, 2015
Selkirk Bakery Display
A display of artifacts from the Selkirk Bakery which was opened in the mid 1800s, opened at Cottonwood Mansion Museum on Wednesday, June 10th, courtesy of area resident William H. Lindsay. The exhibit is on display until Friday, September 18th, and will be followed by materials connected to croquet and other sports in the Victorian Era. See our events for more details.