Welcome to Cottonwood Mansion Museum
Cottonwood is an Italianate-style red brick mansion built c. 1860 by William Holmes Jr., as a private residence. Descendants of the family say the name came from the cottonwood trees that originally surrounded the home on its 200 acre site. It was lived in until 1911 and then was derelict for almost eighty years until its restoration was undertaken by the late Larry Hamilton beginning in 1988.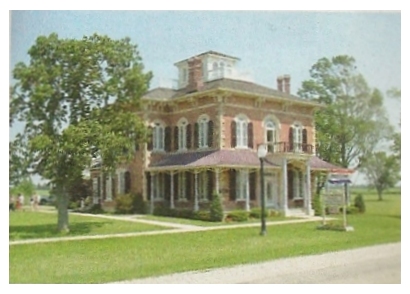 Cottonwood is a 6,000 square foot mansion with fifteen rooms, some of which have the original furniture donated by Holmes' family members. Now a living museum, the mansion is open for tours, and available for rentals for a variety of events. A number of scheduled events take place annually, most with a Victorian flavour in keeping with the mission statement of the Cottonwood Mansion Preservation Foundation to sustain and maintain the Mansion and provide experiences of the Victorian Era.
Cottonwood's extensive genealogy research centre is now administered by the curator at Haldimand County Museum and Archives. It concentrates on the pioneer families of the Haldimand and Niagara areas.
---
Latest News
February 25, 2021
Extended Temporary Closure
Cottonwood Mansion is organizing an "Outreach Program" for exterior tours, starting in June 2021. The interior of the Mansion will remain closed until further notice.
More information to follow about the "Outreach Program".
---
September 5, 2020
For Your Information August 2020

As noted in my first "For Your Information". The Trustees of the Cottonwood Mansion Preservation Foundation have voted to extend the closure of the facility until April 1, 2021. This will cover any extension of the ban connected with COVID-19.

The Daylily sale was held outside the Mansion in July with great success and a generous donation was received from David & Mary-Ann Pearson.

A senior luncheon with entertainment will be held outside the Mansion in early September.

Since we have no revenue coming in we are perusing other avenues, such as the FCC Agri-Spirit Fund for the Balcony & Belvedere repairs & restoration and Museum Assistance Program.

We are maintaining the grounds and minor repairs are being performed inside and outside the Mansion. We are presently painting the Gazebo and the two small bridges. We will have our new sign installed before the end of September.

Since we have limited revenue coming in, a donation from you would be greatly appreciated. I have attached a document on how to e-transfer donations from your bank account to Cottonwood Mansion's bank account. Tax receipts will be issued for donations.

The Mansion phone number is: 905-776-2538
Our email address is: cottonwoodmansion@gmail.com
Our website is: www.cottonwoodmansion.ca

Thanks to everyone,
Richard Hoover President,
Cottonwood Mansion Preservation Foundation



Download this Update here.

Download just the Money E-Transfer page here.



---
June 29, 2020
Today's Mansion News
Richard Hoover, President for the Cottonwood Mansion Preservation Foundation, has released a news dispatch regarding the next few months. Please click through or download yourself a copy here.
---